List your property - Bookings self management - No commission
Gite01 is an independent advertising website for holiday rentals accross France, Spain and Italy, and is not an agency.
Our members, property owners advertising with us, are in pecfect control of their cottages and their income.
They don't pay us any fees or commission on their bookings, just an annual fee for reasonable advertising costs.

Annual fee for placing an ad is all in, there are no additional paid services.
There is a
unique price
for all categories of accommodation, for one year publication.
The price includes all services to owners, there are no hidden charges on Gite01 !
1) You can advertise several homes of the same category in one single ad (example : 3 cottages = one ad)
2) You need to advertise separately different categories of properties (ex : 1 apartment + 1 cottage = 2 ads)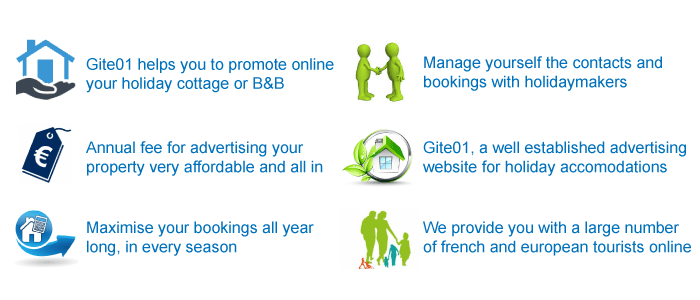 Gite01.fr wants to :
maximise owners bookings, through effective advertising !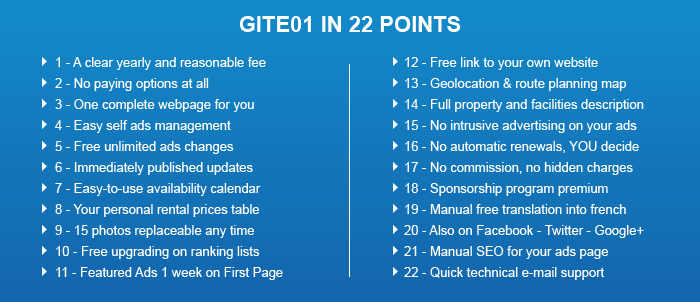 Owner's area
Managing your ads :
Very simple to use and immediate updates
Easy-to-use prices table and calendar
Changes of texts and photos at any time
Guest Book : tell visitors about guest comments
Free upgrading on ranking ads lists
Featured Ads on First Page
For each of your ads :
A full and complete page per property on the website
Insertion of a direct link to your personal website
Geolocation and planning the route on a large map
Your friendly word : tell visitors how special is your offer
Full description of the accommodation facilities
15 large photographs clearly visible and easy to read
Coupon code
Have you received a promotional coupon code ?
Enter it by creating your ads, and you will enjoy the related discount on ads placed before the expiry date of the promotion!
Sponsorship
Our sponsorship program offers to the owners :
• permanent 10% discount per referred owner on any new ad and annual renewal of all their ads, up to -50% customer bonus ! • receiving a blue star Gite01 as a loyalty label premium, up to a standing of 5 stars